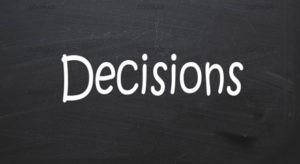 For most colleges "Yield Season" extends all the way up to the day new students show up for class. While the majority of prospective students may have made their college selection decision at this point a sizable number are still considering their options. They are still looking at you and other colleges.
As they get to know you and other colleges better they naturally develop positive and negative perceptions. They develop concerns. Even objections. Who knows if those perceptions and concerns are rooted in facts. But they exist. And you have to uncover them and deal with them. Here's how.
Create well crafted questions, memorize them, and use them verbatim over and over
As you circle back to your admitted student pool it is important to have a strategy for building a relationship in 30 minutes or less. Use highly focused questions that show empathy and reflect your sincere desire to help. "What can I do that would be most helpful to you?" "How are you feeling about this whole college selection process?" "Do you mind if we stay in contact? What's best for you? Email? Text?"
Put the student at ease
Give the student permission to be open, honest and frank. "I promise you won't hurt my feelings by telling me …" "To help you I need to ask a few questions. Is that okay?"
Explore the student's potential fears and motivations
Students may be conflicted about sharing this information until you assure them that it is a natural part of the process. "For a lot of students, picking a college is like riding on an emotional roller coaster. They say that it's both exciting and stressful. What's it been like for you? How can I help?"
Dealing with indifference
Students and parents often need to be educated about what they SHOULD consider in selecting a college. "Let me tell three things I see students and parents overlook in college selection that comes back to haunt them later." Then, present your institution's strengths in those areas.
Uncovering other colleges in consideration
If you don't already know, you must find out now both where and why the student is considering another school. Your conversation with the student may go as follows. "A lot of students I talk to say they want a college that provides [name an attribute] and makes them feel [name a feeling]. Would that describe you or do you want different things? Have you found a college yet that offers that to you?" If yes, ask which one(s)? "That's
really interesting. I'm happy for you. Out of curiosity, which colleges are they? And you won't hurt my feelings if it's not us."
Ask how the student discovered these attributes in the college. "How did you come to know or feel that about them?"
Gauge the student's emotional commitment to one or more colleges. "At this point, where is your heart leading you?"
Turning reluctance into commitment
When a student tells you that they're still making a decision, respond by asking for more insight into his or her decision-making process. "It's not uncommon for students to still be considering their options at this point but many say that they've narrowed down what's going to be important to them. What's going to be most important to you?"
Handling the root causes of "buyer" reluctance
Lack of information: "I sense you're a little uncomfortable taking the next step. When that happens it's usually because the student needs more information or some assurance. How about you?" Find out what information or assurance is needed.
Hidden objections or concerns: "Some students don't take the next step because there is something they don't like or they have a concern about something. Is that so for you – I promise you won't hurt my feelings but it will help me understand."
Withholding their true feelings/plans from you: "Of course, I want what's best for you. And you can be honest with me because I'll help you even if we aren't your chosen school. What are you thinking at this point?"
Fear of the unknown: "Some students don't take the next step just because it's kind of scary. They've never been through it before. However, once they do they feel a huge relief and look back and think 'That wasn't that hard after all.'"
In conclusion
In no way do we ever advocate trying to fit a square peg in a round hole. If the student is not a fit for your school, and they'd be better served elsewhere, then by all means it's your duty to help them find that school. You want students who will be comfortable, happy and successful. Unfortunately, many conversations between counselors and prospective students never reach a depth where the the student WILL be best served. For that to truly happen you have to be prepared to artfully ask penetrating but necessary questions to better understand where the student is in his or her decision-making process and why.
We help colleges and universities with their recruiting efforts every day, especially now during yield season. If we can help you, please let me know. If you've thought about helping your staff with professional development, now is the ideal time to train and motivate your staff. Email or call me if you are interested in how we can help. Continue the conversation on Twitter @LongmireCo. For more information about Longmire and Company and the tools we have to offer, click here. Be sure to subscribe to Versions of Conversion today so you can stay up-to-date.
We recently launched a series of free video training tutorials on our website and YouTube channel aimed at making your counselors even better at their jobs. On our website you'll find an ever growing list of admission counselor tutorials. Subscribe to our YouTube channel for more tutorials, powerful data from national co-sponsored studies and interviews with some of your peers.

Rick Montgomery is as an Enrollment Strategist at Longmire and Company. With over 20 years in higher education marketing, he brings an innovative and dynamic approach to helping colleges and universities meet their enrollment goals. Rick can be reached at 913/492.1265 x.708 or via email at rmontgomery@longmire-co.com.