Last year, our team brainstormed a way to share with the higher-education community at-large some of the unique methods we use to help colleges build powerhouse admission departments. The end result was a
series of eleven blog posts, "The Counselor Training Series," that turned out to be quite the crowd-pleaser making these some of the most popular posts in the history of our blog. Just in case you missed it, or if you'd like to review these winning principles, here is a recap of the series that can help you build a championship staff.
At the heart of our highly-successful Interactive Counselor Training Program is a proven model of communication that counselors tell us is transformative. It is simple and effective. Adopt this straightforward method and you will see greater success in your recruitment efforts.
The vast majority of counselors don't cover a sufficient number of topics with a prospective student. We tell you why you must probe and how to do so effectively.
Here's how you can define your value to students and parents in a truly meaningful way.
We show you how to turn questions, concerns, objections and indifference into conversations that lead to enrollment.
Get the student to take the next logical step on the path to enrolling.
Break out of this trap: The students and parents you're talking to are hearing the exact same thing from every other college they are considering.
Learn this secret from some of the most successful college recruiters in the country. Hint: You can master it, too!
Take a page from savvy business builders. Adopt these behaviors into your role as an admission counselor today for immediate results.
Step out of your comfort zone and ask questions of students and parents that you have never asked before. The results will surprise you!

Colleges and counselors that are most successful at recruiting are masters of understanding each prospective student and generating their excitement.
Here is how you can differentiate your institution by RELIEVING, rather than ADDING, stress to the college selection process.
Interested in taking the next step toward creating a Championship Admission Team? Now is the ideal time to train and motivate your staff. Email or call me if you are interested in how we can help. And, if you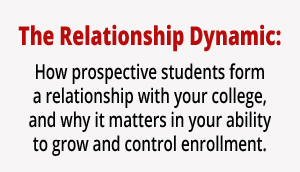 want to join a prestigious group of colleges and universities that are exploring the issue of building relationships with prospective students click here for information about of our new co-sponsored study, "The Relationship Dynamic: How prospective students form a relationship with your college, and why it matters in your ability to grow and control enrollment."
Continue the conversation on Twitter @LongmireCo. Be sure to Subscribe to Versions of Conversion today so you don't miss any of this highly-valuable information.

Bob Longmire is President of Longmire and Company, Inc. He is a recognized expert on the topic of how prospective students and parents form their college selection decisions – and how colleges can use that knowledge to grow and control their enrollment. He can be reached at (913) 492-1265, ext 709 or at blongmire@longmire-co.com. Connect with Bob at Linkedin/in/boblongmire.