[This is Part 3 of the Yield Enhancement Series: The Final Push, offering actionable and effective strategies for the closing weeks of the yield season.]
Admissions teams across the country are in the midst of their most exciting, and yes, most stressful, time of year. Every communication you have with a prospective student right now could be the ONE that seals the deal.
No pressure, right? Consider this your review before the final exam. Here are a few key insights (backed by extensive research) that will help you frame the conversations you are having with the students in your admit pool in a more compelling way and help you win more enrollments.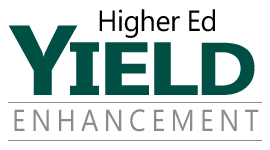 First, get rid of assumptions. "I am going to cross Brandon off my list because he made it clear that he couldn't afford us unless he got more financial aid," or "Jessica's mother told me that she wants her daughter to commit to XYZ University because we are just too costly."
Not so fast. Before you give up on Brandon and Jessica consider this: As important as the issue of cost is in the college decision process, it may not be the driving force you have assumed it is. Actually, less than 27% of the students in our current "Excitement Factor" study (with over 13,000 participants) considered cost to be the overriding factor in their ultimate college selection.
Plus, 70% of students and parents told us they would reconsider a college they originally thought to be too expensive if it can demonstrate greater value. (See our report Your Value Proposition: How prospective students and parents perceive value and select colleges.)
We know with certainty, through our research and providing counselor training workshops on college campuses across the country, that Brandon and Jessica (and every other student in your pool who has expressed cost sensitivity) represent an opportunity for you to demonstrate your school's unique value proposition. But first you have to define it. From the perspective of the student and parent. Not yours!
I am willing to bet that you can list 20-plus outstanding attributes about your college right now. Reasons why someone should come to your school. If so, good job.
The problem is: the students and parents you are talking to are hearing the exact same thing from every other college they are considering. That is the bitter truth!
To differentiate your college you must pinpoint the attributes that are unique to your school.
It's not just what you have in the way of programs, facilities and people. It's what your institution believes in. It's the type of students your institution attracts. It's the type of experience you offer that is unavailable anywhere else.
Try this exercise. It will bring focus to your ability to distinguish your institution from all others. Make a list of all of the things you say about your college and all of the reasons you think a student would find your school attractive. Now, look at each item on your list and ask yourself, "Are my prospective students hearing the same thing from any other college?" Be brutally honest.
If you think other colleges are likely to be saying the same thing that you're saying about yourself, then cross it off your list. At the end of the exercise count how many items you have left.
We frequently do this exercise in our Interactive Counselor Training Workshops on college campuses all over the country. I can tell you that, in most cases, the big list of "reasons why to attend" gets whittled down to nothing. Then, we challenge the counselors to identify the beliefs, culture and characteristics that are genuinely special about their school.
By forcing yourself to go through this very introspective process you will have discovered what truly makes you exceptional among the many choices available to prospective students.
I guarantee that in many ways your college is truly distinctive. Identifying those attributes allows you to have focused and engaging conversations with the students in your pool.
At this stage of the cycle, every conversation should include a highly-personalized discussion of the value you provide, matching your college's unique attributes to what is most interesting and exciting to that student. This is your opportunity to demonstrate how your value delivery outweighs your cost.
We help colleges and universities with their recruiting efforts every day, especially now during yield season. If I can help you, please let me know.
Continue the conversation on Twitter @LongmireCo.   For more information about Longmire and Company's Interactive Counselor Training Program, click here. Be sure to Subscribe to Versions of Conversion today so you don't miss any of this highly-valuable information

Rick Montgomery is as an Enrollment Strategist at Longmire and Company. With over 20 years in higher education marketing, he brings an innovative and dynamic approach to helping colleges and universities meet their enrollment goals. Rick can be reached at 913/492.1265 x.708 or via email at rmontgomery@longmire-co.com.