The saying "First Impressions Last" has been around for a long time because it's absolutely true. All over the country, admissions counselors are preparing to make that critical first impression as they venture out on those all-important high school visits.
Currently, you're most likely in the planning stage. Contacting high school counselors, setting up meet and greets with college-bound seniors, scheduling college fairs, pulling together promotional materials and packing your bags. Very soon, travel season will begin and it can be stressful and relentless. Believe me, I know. During my years in enrollment management, I, too, spent days, even weeks, on the road visiting 100+ high schools in way too few days, and sometimes wondering whether or not my efforts were having a significant impact.
Whether this is your first travel season or your fifteenth, there are ways you can differentiate your college or university, have meaningful interactions with prospective students and ensure a very rewarding travel season.
Lose The Pitch
That canned presentation that you have at-the-ready where you list of all the super features that your school has to offer? Forget it. Features are only benefits when the person hearing them sees value in them. How do you know which special attributes of your institution will be meaningful to a student? You ask the right questions.
When you are asking questions and getting acquainted with the student you are also doing the one thing that will truly distinguish your college from all others. Can you guess what that is?
The Answer is: Taking a Personal Interest in the Prospective Student 
If you are thinking that is too simple, or that most colleges do this already, two-thirds of prospective students will disagree with you. In truth, most college-bound students say that the colleges they most seriously considered never took a personal interest in them at any point in the recruiting process. In The Excitement Factor!, our recently released nationally co-sponsored study, 12,000 college-bound students told us that the college's personal interest in them, or lack of it, was influential in their college selection decision.
And, as a practical matter, the more personal interest you take in a student the more you will find out about his or her unique combination of interests, preferences, desires, anxieties, and aspirations. With that greater understanding you will naturally communicate a unique value proposition. The student will perceive you as distinctive among their available choices. You will have reached the coveted state of differentiation.
Ask "Why?"
Every admissions counselor has an arsenal of questions that they ask prospective students during the school high school visit. We suggest that you replace those with the type of questions that will begin the process of building relationships. These topics are great discussion-starters for group sessions, too.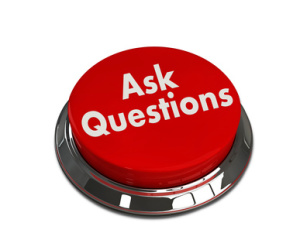 Picture your ideal college. Tell me about it.
What excites you about going to college?
Is there anything that concerns you about college?
What are your interests outside of school?
Right now what college interests you the most? Why?
Do you see anything getting in the way of going to college?
Why are you most interested in biology/communications/whatever?
How would you like me to communicate with you? May I text you?
The best admissions representatives paint a picture of what the college experience will be like. And they do that in a way that is personalized to the student. The right questions will lead you to painting a compelling picture.
Be THE Guy
Maybe you are not actually a guy but you can still be the key person that a student can count on to provide anything they need related to your college or university. Lindsay, a superstar admissions counselor shared this with me recently, "At the end of my last travel season I had over 200 new friends' numbers in my phone. I tell them, 'I'm your guy at XYZ University. If you need something, if you have a question, if you are worried about something, text me,'" she explained. "You can't imagine the number of questions and requests I have fielded but I have a relationship with every one of those students and my yield rates are tops."
There are communication techniques your staff can learn that will help them feel confident about reaching out to their prospective students to ask the right questions. This is one of the core techniques we teach in the Interactive Counselor Training Workshops we hold on college campuses throughout the country. It is also a key component of YES, our Yield Enhancement Tool. Let me show you how we can help you. Please call or email me for more information. Continue the conversation on Twitter @LongmireCo. Be sure to Subscribe to Versions of Conversion today so you don't miss any of this highly-valuable information.

Karen Full is a highly-respected higher education professional who has held positions in admissions and enrollment management at several institutions in the Midwest and Florida. With her vast experience working with large and small, public and private colleges, Karen brings a valuable perspective to her role as an Enrollment Strategist at Longmire and Company. Call Karen at 913/492.1265 x.711 or email her at kfull@longmire-co.com. Follow Karen on Twitter @KarenAFull.