First, let me share some data. Then I'll extend an invitation that I think you'll want to accept.
The Data:
Colleges do not differentiate themselves through their tour and visit programs, students say. In our national co-sponsored studies, and through focus group research we conduct, 60% of students say that campus tours are "all the same," and they don't consider that a good thing. Students tell us that most don't generate any more or less excitement than all of the others they experienced.
The key reason, students tell us, is that most tours focus on the college and its attributes without consideration for the student's specific interests. This is especially so in group tours. In contrast, students who receive one-on-one tours where the focus is on them and what they want, tend to see the campus visit experience as a demonstration of the college's personal interest in them.
Ask yourself:  Do our tours and visits capture the magic that is unique to OUR college?  Does the visit feel personalized to the interests of the student? 
In our recently released study, "Hidden Influences," over 18,000 college bound students were asked what they remembered seeing or experiencing on a campus visit that made a college especially attractive to them. Two primary themes emerged. Students were enamored with the campus itself (which they described in many different ways) and the students (both prospective and current) they observed and interacted with on their visit.
Students most frequently express their appreciation for the campus less in terms of physical attributes and more in emotional attributes such as the "feel" of the campus, "atmosphere" and "vibe."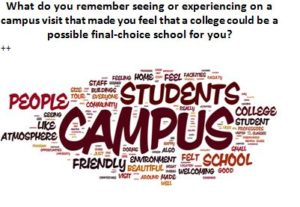 Interaction with current students on a campus plays a critical role in their college selection decision. It gives them a feel for what their life will be like if they enrolled. Prospective students respond very favorably to current students who are friendly, enthusiastic, happy and welcoming.
Ask yourself:  Are visiting students given a variety of opportunities to interact with each other and current students in a positive environment?
When prospective students were asked what they remembered seeing or experiencing on a campus visit that made a college especially unattractive to them, the same two primary themes emerged: the campus and students/people.
Interestingly, though, their comments about things they find unattractive are notably more visceral than their comments about things they find attractive. They describe campuses as "gloomy," "dreary," "dirty," "run down," "desolate" and "empty." They describe students as "snooty,""unhappy,""unfriendly," "mean-spirited" and "rude."
It's hard to imagine that any student would enroll in an institution at which they had such negative emotional responses as described above.
During a campus visit about one-half of prospective students see and experience things about the college that they find unappealing. This finding may be expected since all students are not going to like everything they see at all of the campuses they visit. What is more concerning is that only 13% of students say that an admission counselor ever inquired if they had seen or experienced anything the student found unappealing or concerning about their campus.
Ask yourself: Are you asking your visitors if they saw anything they didn't like? Simply asking, "How was your tour?" isn't enough. Probe for the specifics of what they did and did not like. If you don't ask, they won't tell and you will never know the real reason they didn't enroll.
Perhaps the most important questions you can ask yourself are:
Is your campus visit program resulting in greater yields?
How well do you use this golden opportunity to cement the emotional commitments of prospective students and their parents?
Do you accurately measure the results of these visits and the impact on enrollment?
Is every campus representative well-trained in their role?
The invitation:
After our last two co-sponsored studies, we wondered: Just how much and how precisely are colleges capturing the thoughts and opinions of students and parents after their campus visits? Are they capturing truly relevant data, or are they capturing data that doesn't prove to be all that useful in helping them improve their campus visit experiences in the hearts and minds of prospective students?
So, out of curiosity, we asked a number of our clients to let us see the "post-visit" surveys they use. They were more than happy to have us review and comment on them.
In a nutshell, the surveys were mostly boilerplate. With questions like "Were we helpful?. Or, "Did you see everything you wanted to see?" Or, "Can you see yourself enrolling here?" Etc. Etc.
The questions on these surveys did not measure CHANGE in a student's view of the college. Or dominant EMOTIONS that were or were not instilled in students and parents as a result of the visit experience. Or how the visit experience COMPARED to other campus visit experiences the student had with other colleges.
We'd like to look at are larger number of "after-visit" surveys in use at colleges across the country. We'd like to see how they can be improved.
So, if you'd like to send us your campus visit survey please do! (Don't worry, it won't be shared with anyone.) We'll take a look at it along with others we receive. We'll then share with everyone the best, most incisive, most actionable, and most creative questions we see. There is no cost for this!!
Send your campus visit survey to Bob Longmire by CLICKING HERE. You may want to leave your contact information in case Bob has a question or suggestion specific to you.
Shifting gears:
I hope you'll check out the national co-sponsored higher education study we are launching now:  Emotional Motivators. This study is based on the adage: "Facts tell. Emotions sell." Students want and need facts and information about the colleges they consider. But their college selection decision will hinge on how they FEEL about the school they'll ultimately enroll in. This study will tell you how they feel about you relative to the other colleges they considered (or chose to attend).
You should get in as a co-sponsor! There is still time. You can get a deeper level of insight on the pool of prospective students you were/are working for 2017 and get a clear understanding of how you were or weren't tripping their trigger. You can click here for a video with all the details.
Continue the conversation on Twitter @LongmireCo. For more information about Longmire and Company's Interactive Counselor Training Program, click here.  Subscribe to Versions of Conversion today so you don't miss any of this highly-valuable information.

Rick Montgomery is as an Enrollment Strategist at Longmire and Company. With over 20 years in higher education marketing, he brings an innovative and dynamic approach to helping colleges and universities meet their enrollment goals. Rick can be reached at 913/492.1265 x.708 or via email at rmontgomery@longmire-co.com.