[Part 4 of our blog series on how exceptional pre- and post-enrollment customer service can increase yield at your college or university.]
The holidays are behind us (I hope yours were full of family, friends and fun) and now we are all gearing up for the year ahead. In the world of enrollment management that means yielding the best possible incoming class of 2016.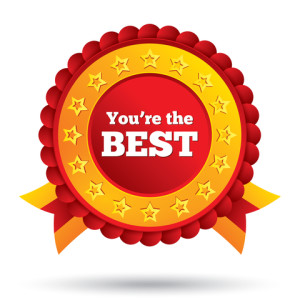 In recent weeks, we have been sharing insights with you about how providing exceptional pre-enrollment customer service can impact your ability to achieve your enrollment goals. When you get it right, it will differentiate your school from all others. But, if you have breakdowns in your pre-enrollment service, it can be the single element that derails you.
Consider this: In our national co-sponsored study, How Customer Service Delivery During the Recruiting Cycle Influences Enrollment, we found that 53% of students and parents say that the service they receive from a college during the "shopping process" influences their selection decision.
Prospective students and parents view the pre-enrollment service they receive as predictive of how the student will be served after enrollment.
The research is very clear but it was a chance encounter with an old friend over the holidays that crystallized the message for me.
My friend Dave is assisting his oldest daughter, Emily, in her college search. Dave is a savvy consumer and he is also well aware that Emily has the GPA, college test scores, and extracurricular activities that colleges find attractive in a prospective student. As a matter of fact, he shared with me that she has been on the radar screen for a number of schools for several months. "She gets daily emails, letters and phone calls from all of them," he said. "I figured we would take a hard look at two or three and it would be an easy decision. Instead, she is more confused now than ever. The whole experience was a huge disappointment."
Here is Dave's take on the college shopping experience:
At College A:  Emily and her dad were given the standard tour which did not include any of the areas of specific interest to Emily. "She is a likely music major but that wasn't part of the tour. When she asked about the music program, which we know is considered to be among the finest, the guide provided a spiel right out of the handbook." And this was after numerous phone conversations with the admissions counselor.
At College B:  The tour was far more personalized. "Someone had done their homework because she was shown the music department and told about specific opportunities available to her." Dave said that Emily got excited about the campus and he had a feeling they had found The One. That is, until they had a one-on-one with the admissions counselor. "What a turn-off," Dave groaned. "He recited an encyclopedia of stuff about the school but didn't relate any of it to Emily. I don't think he asked her even one question about her interests or what she wanted from the college experience."
On to College C:  "The admissions staff was enthusiastic and helpful. The counselor truly seemed to care about my daughter," Dave said. But it all fell apart when they left their office. "The campus atmosphere wasn't friendly and the grounds were unkempt. We got turned around and couldn't find anyone to help. " When they finally found their way back to the car, Emily told her dad, "No way!"
Unfortunately, Emily's experience is not unique. It does, however, offer a cautionary tale for all colleges and university enrollment teams.
Here is the Good News:  You CAN be the college or university that stands out with exceptional pre-enrollment service.  Review this multi-part series for the necessary processes and steps. Taking control of your pre-enrollment service delivery will allow you to better serve prospective students and increase your yield.  Make it your New Year's resolution!
The Business Principle You Can Adopt Today for Increased Yield
Take this First Step Toward Increasing Yield TODAY
Don't Let These 3 Pitfalls Derail Your Enrollment Success
Worth watching. About a year ago Chris D'Orso interviewed Longmire and Company on Higher Ed Live about customer service in higher ed.
If you have any questions, please give me a call. Longmire and Company offers Service Quality Management (SQM) surveys to help you achieve these goals. And we conduct workshops on campus to help colleges chart their course in providing better service to prospective and current students. Contact me today and I will show you how we can help you measure and manage your pre-enrollment service. Continue the conversation on Twitter @LongmireCo.

Rick Montgomery is as an Enrollment Strategist at Longmire and Company. With over 20 years in higher education marketing, he brings an innovative and dynamic approach to helping colleges and universities meet their enrollment goals. Rick can be reached at 913/492.1265 x.708 or via email at rmontgomery@longmire-co.com.