[This is Part 5 of the Yield Enhancement Series: The Final Push, offering actionable and effective strategies for the closing weeks of the yield season.]
Do you recall when the iPhone was released? I mean the FIRST one? Maybe you were even one of the hundreds of thousands of people who stood in line (or camped out) in extreme heat, cold or rainstorms, for as long as four days to get their hands on this thrilling new technology. In what was described by many journalists as a "carnival-like atmosphere," over 270,000 iPhones were sold in the first 30 hours they were available.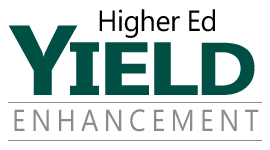 What could possibly motivate so many rational people to act in this manner? It was EXCITEMENT, pure and simple. The same kind of excitement that you and your admissions team have been working for months to create within your pool of prospective students.
Don't underestimate the power of excitement. Consider this: While researching how students and their parents perceive value and make their college selection, we discovered that of the three primary drivers of college selection (cost, perceived quality of the institution and the student's excitement about attending) excitement about attending was more strongly correlated to likelihood of enrollment – by a factor of two – than the other two drivers.
In our most recent national co-sponsored study, The Excitement Factor, we sampled over 13,000 students to rate their level of excitement (on a 10-high scale) at the point when they made their college selection decision. I use the word "decision" but it's more like an emotional explosion for so many. Nearly half of the students told us that, at the end point of their college shopping process, their excitement level about their college of choice had reached 9 or 10 on the scale. What enabled them to reach that fever pitch was everything  that came before it. The conversations they had with counselors, the campus visit, talking with current students, seeing what their life experiences would be like when they step on campus Day One.
Certainly you and your team have been working for months to create student excitement about your institution; much like Steve Jobs and the Apple team did back in 2007. Every promotional brochure, email, campus tour, press release, personal conversation, every single effort you have put forth to make your class, has been designed to emphasize your college's unique attributes in a way that will spark the enthusiasm of your prospective students.
Now it is time to ask each and every student in your pool this crucial question: "What is your level of excitement about attending our college?"
If you get the answer you want, terrific, it is time to close the deal. But, if not, follow-up with questions that will lead you to your end game:
"Is there another college that excites you?"
"What about that school is exciting to you?"
"What would amp up your enthusiasm for us?"
"What can I show you here that you really want to see?"
"Who can I introduce you to that will tell you what it's like to attend here?"
The reason most counselors don't ask these questions is because they are afraid to. Counselors often hold themselves back from asking penetrating questions because they're afraid students will perceive them as being intrusive. That's so unfortunate. For both the counselor and the student.
Admissions counselors who employ the direct approach tell us that they are often surprised by the answers they get when they specifically ask about a student's level of excitement. Not only do they get a real-time assessment of what the student is feeling, but they frequently uncover the ONE THING that will turn an admitted prospect into an enrolled student. It's simple, effective and a WIN-WIN for all. That's something to get excited about!
Asking direct questions about how a student feels and how excited (or not) they are about your college is crucial to understanding what you need to do to generate the kind of excitement that will lead to enrollment.
So, try this: The next time you're talking to a prospective student, ask this simple question, "On a 10-high scale, what's your excitement level about coming to our school?" Give them permission to be honest by telling them that they won't hurt your feelings. If you get an answer that's anything less than a 10, follow up with the sincere and honest question, "What would get you to a 10?" Listen to what they say. Listen for how you can help them.
We help colleges and universities with their recruiting efforts every day, especially now during yield season. If we can help you, please let me know.
If you would like a copy of our Excitement Factor report as soon as it is released you can CLICK HERE  to send us an e-mail to put you on the distribution list.
Continue the conversation on Twitter @LongmireCo. For more information about Longmire and Company's Interactive Counselor Training Program, click here. Be sure to Subscribe to Versions of Conversion today so you don't miss any of this highly-valuable information.

Bob Longmire is President of Longmire and Company, Inc. He is a recognized expert on the topic of how prospective students and parents form their college selection decisions – and how colleges can use that knowledge to grow and control their enrollment. He can be reached at (913) 492-1265, ext 709 or at blongmire@longmire-co.com.