Over the next few months you will have many conversations with prospective students and their parents. What better time to offer you some insights we've collected from tens of thousands of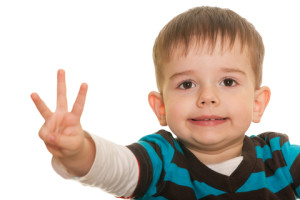 students and their parents who have shared their thoughts, feelings and viewpoints on the college selection process with us through our national higher education co-sponsored studies?
Here's what they want you to know:
"I'll be judging your service delivery from the first interaction."
You know that you never get a second chance to make a good first impression. In our national co-sponsored study, "Pre-Enrollment Service: How customer service delivery during the recruiting cycle influences enrollment" we found that over 53% of students and parents say the pre-enrollment service they receive from a college influences their selection decision.
They also say that service is one of the best ways to differentiate one college from another. The fact is: Prospective students and parents view the pre-enrollment service they receive as predictive of how the student will be served after enrollment. They will avoid colleges that exhibit bad service during the "college shopping" process.
Colleges and universities that score the highest in pre-enrollment service are those that view prospective students and their parents as important customers. They typically engage every person on campus in a customer service plan with clear and actionable instructions and objectives. Most importantly, they express to each person how key their role is, and offer specific ways they can help the institution provide the best possible customer service.
"Make me feel wanted!"
In our most recent nationally co-sponsored study, "The Excitement Factor!" we asked 13,000 college-bound students if the colleges they were considering had taken a personal interest in them at any point in the recruiting process. The response was shocking. Two-thirds said "No" or "Don't Remember" and in our view "Don't remember" is the same as "No."
Student excitement about a college is enhanced when they perceive that the college has taken a sincere personal interest in them. As a practical matter, the more personal interest you take in a student the more you will find out about his or her unique combination of interests, preferences, desires, anxieties, and aspirations. With that greater understanding you will naturally communicate a unique value proposition. The student will perceive you as unique among their available choices. You will have reached the coveted state of differentiation. With 36% to 42% of students in the public and private pools, respectively, saying that this was influential in their college selection, it underscores the opportunity for colleges to impact enrollment by demonstrating a personal interest in students across every brand touch point of the institution.
"It's easy for me to see cost. You have to help me understand value."
Yes, cost is a factor, an important one, in the college decision process.  But it may not be the driving force you have assumed it is. Actually, less than 27% of the students in our "Value Proposition" study considered cost to be the overriding factor in their ultimate college selection.
Just what exactly are prospective students considering when they check out your college? In spite of what the media tells us, students are making their college selection decisions based less on outcomes four or five years down the line and more on what they will experience immediately when they step on campus. Job placement after graduation, for example, ranks fifth on the list of things most important to students and parents in selecting a college. It ranks behind academic quality, availability of specific programs and majors, cost of attending, and their feelings about the campus and students.
Only about one-quarter of students indicate that salary after graduation plays an "extremely important" role in their college selection decision. This attitude is pervasive among all students, regardless of intended course of study.
Granted, cost and outcomes may be more top of mind for parents. However, both parents and students agree: the student has substantially more influence on college selection.
If you are looking for a way to distinguish your college from others, take note: Engaging in a detailed and highly personal discussion of value will set you apart. Again, value has many more components than just cost! Shockingly, only 2 in 10 students and parents say that the college they most seriously considered addressed how it plans to maximize the value received over the course of the student's time there.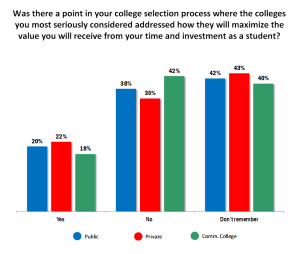 The lesson here: More explicit discussions of value and value expectation should take place between prospective students, parents and the colleges they are considering. Admission counselors, financial aid staff, and even faculty should have conversations with students and parents regarding the value they desire and expect to get from the colleges they are considering.
The road to graduation is long and has many twists and turns and it all begins with the college shopping process that students are navigating right now. Your challenge is to remain fully and continually connected with them in order to provide the highest level of personal service in all areas that will influence their realization of the full value your college provides.
We are helping colleges with their recruiting efforts every day. If I can help you please call or shoot me an email. Continue the conversation on Twitter @LongmireCo. For more information about Longmire and Company's Interactive Counselor Training Program, click here. Be sure to Subscribe to Versions of Conversion today so you don't miss any of this highly-valuable information.

Rick Montgomery is as an Enrollment Strategist at Longmire and Company. With over 20 years in higher education marketing, he brings an innovative approach to helping colleges and universities meet their enrollment goals. Rick can be reached at 913/492.1265 x.708 or via email at rmontgomery@longmire-co.com.