For most colleges "Yield Season" extends all the way up to the day new students show up for class. While the majority of prospective students may have made their college selection decision at this point, a sizable number are still considering their options. They are still looking at you and other colleges.
Nearly 30% of Students Have Yet to Bond with a College
In our co-sponsored study, "The Relationship Factor," over 70% of students told us that the relationship they built with their college of choice had a major influence on their enrollment decision. What we learned is that when a student feels a connection with a college, they are quick to claim it as their own.
In the graph on the right, you will note that more prospective students identify April as the month they bonded with a college.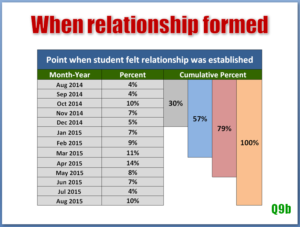 But here is the number you want to consider today: 29% of students have yet to develop a bond with a college.   That suggests how much potential there is to connect with students and win their enrollment during the summer. It also suggests that the lack of a relationship may foreshadow melt.
Best Practices:  Turning Reluctance into Commitment
As you circle back to your admitted student pool it is important to have a strategy for building a relationship quickly. Use highly focused questions that show empathy and reflect your sincere desire to help. "What can I do that would be most helpful to you?" "How are you feeling about this whole college selection process?" "Do you mind if we stay in contact? What's best for you? Email? Text?"
When a student tells you that they're still making a decision, respond by asking for more insight into his or her decision-making process. "It's not uncommon for students to still be considering their options at this point but many say that they've narrowed down what's going to be important to them. What's going to be most important to you?"
Handling the root causes of a student's reluctance to select your school
Lack of information: "I sense you're a little uncomfortable taking the next step. When that happens it's usually because the student needs more information or some assurance. How about you?" Find out what information or assurance is needed.
Hidden objections or concerns: "Some students don't take the next step because there is something they don't like or they have a concern about something. Is that so for you – I promise you won't hurt my feelings but it will help me understand."
Withholding their true feelings/plans from you: "Of course, I want what's best for you. And you can be honest with me because I'll help you even if we aren't your chosen school. What are you thinking at this point?"
Fear of the unknown: "Some students don't take the next step just because it's kind of scary. They've never been through it before. However, once they do they feel a huge relief and look back and think 'That wasn't that hard after all.'"
Obviously, when a student fails to matriculate it is disappointing. But the race to make your class isn't over even if your numbers look good now. Our research shows that the factors that contribute to the phenomenon of melt are the same issues that are impacting the students in your admit pool today; coping with the reality of college costs, anxiety about finding the "right fit" and an overwhelming amount of often confusing paperwork, among them.
So, what can you do? Follow the lead of the most successful admissions counselors: They know they must continue the building of relationships with their students and gain valuable personal insight about each and every one of them. Many students don't begin to feel as though they've established an emotional bond (aka relationship) with a college until orientation. It's up to the counselors and others from the college to create and nurture relationships with students who are on the path of enrolling but have not crossed the finish line.
With that knowledge in hand, they nurture a relationship with the student that best serves the needs of the individual. They stay in touch, remain accessible, ask questions and have meaningful conversations throughout the entire admissions process. They make the student feel wanted, important, and engaged with the college. And, they don't get unpleasantly surprised in August when the student vanishes.
NEWS: Longmire and Company's just-announced national co-sponsored higher education study has been launched to explore – in depth – the topic of emotional motivators in college selection.
Unlike any other higher education research to-date, "Emotional Motivators: How to increase and control your enrollment by getting a deep and accurate understanding of how students really feel about your college," will explore how students feel and, more importantly,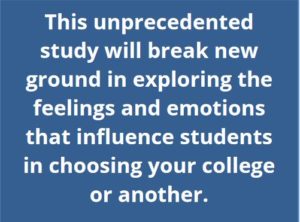 uncover why they feel that way, to give you a deeper understanding of the students you're trying to recruit. The actionable insight yielded by this study will give you greater control over your conversations with prospective students, better ability to craft sharper mass marketing messages, and more direction to design highly productive campus visit experiences.
We hope you will join a prestigious list of co-sponsoring colleges and universities, large and small, and participate in this study. Co-sponsors find our studies valuable because of the wealth of new insight they gain about their individual pools of prospective students – insight they can use to drive action and change.
Colleges are signing up now so we encourage you to contact us soon if you are thinking about participating. CLICK HERE FOR COMPLETE INFORMATION.
Continue the conversation on Twitter @LongmireCo. For more information about Longmire and Company's Interactive Counselor Training Program, click here. Be sure to Subscribe to Versions of Conversion today so you don't miss any of this highly-valuable information.

Rick Montgomery is as an Enrollment Strategist at Longmire and Company. With over 20 years in higher education marketing, he brings an innovative and dynamic approach to helping colleges and universities meet their enrollment goals. Rick can be reached at 913/492.1265 x.708 or via email at rmontgomery@longmire-co.com.