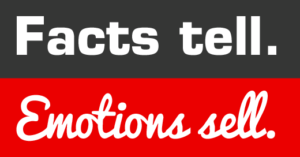 Preliminary findings from our latest national co-sponsored higher education study are definitive on this subject:  Your prospective students want/need you to understand the feelings and emotions they are experiencing as they navigate the college selection process.
Over 10,000 recently enrolled college students have revealed to us the specific emotions they encountered while searching for the right college. More importantly, they are sharing their perceptions of what the colleges they considered did, and did not do, to support their feelings and how that influenced their ultimate college choice.
Of course, we are all well aware of the range of emotions that envelop prospective students during their college selection process. That is not news. What the "Emotional Motivators" national co-sponsored study uncovers is how you can increase and control your enrollment by getting a deep and accurate understanding of how students really feel about your college and what you can do to channel those emotions.
[Full disclosure:  The study is underway and I am sharing just a few preliminary findings. However, at the current sample size, the margin of error at the 95% level is +/- 1%.]
So, what new insights does "Emotional Motivators" offer that you can use right now?
First of all, the study findings reveal that choosing a college is even more anxiety provoking than you may have thought. More than 80% of students say they experienced anxiety while searching for a college.anxiety chart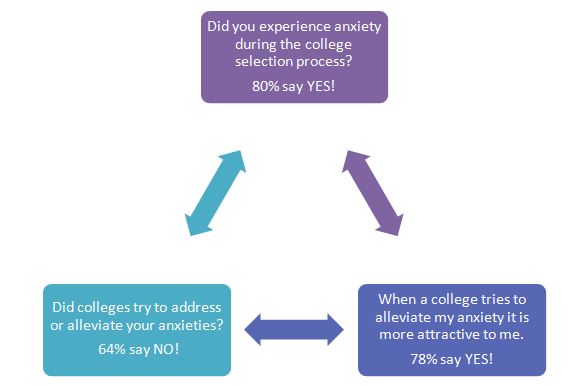 When asked if any college tried to find out about, address or alleviate their anxieties, 64% said "NO."
What happens when a college reaches out to address and alleviate anxiety? An overwhelming 78% of students tell us that it makes the college more attractive to them.
In our prior higher education studies we have identified the 6 stress-inducing actions most often cited about the college admission's industry:
That we communicate poorly
That we're slow to offer or reject admission
That we have burdensome processes
That admissions people are not responsive
We are poorly organized, and
In some cases, they believe we're being DISHONEST
Ouch!!!
"Emotional Motivators" takes a deeper dive into this topic and asks students what advice, actions, experiences or information provided by colleges helped alleviate their stress.
Some of the most cited:
Personal contact with an admissions counselor who provides counsel throughout the process
Communications from current students via email, phone calls, text messages and personal visits
Responsive and consistent communications
Overnight visits to the college
Humor in communications
Treat each prospective student as you would expect and hope to be treated
Above all, show a sincere interest in the student
These may seem obvious but it's amazing how many colleges fail to practice these proven behaviors that will serve a prospective student and parents well.  Every student has a unique combination of needs, preferences, perceptions and motivations. Identifying and dealing with all of them enables the college to have a deeper and stronger relationship with the prospective student. Uncovering them requires that the college focus on the student rather than the institution.
There are communication techniques your staff can learn that will help them feel confident about reaching out to prospective students to ask the right questions. This is one of the core techniques we teach in the Interactive Counselor Training Workshops we hold on college campuses throughout the country.
We'll be sharing more insights from "Emotional Motivators" in upcoming blog posts but if you want to capture this powerful data about what students think and feel about your college, there is still time to join a prestigious list of co-sponsoring colleges and universities, large and small, and participate in this study. Co-sponsors find our studies valuable because of the wealth of new insight they gain about their individual pools of prospective students – insight they can use to drive action and change.
As a co-sponsor you receive a comprehensive set of tabulations relating to your pool of students, as well comparative data of others in your cohort and other market segments. You'll also receive the national summary report before its widespread release.
In addition, Longmire and Company Enrollment Strategists will prepare and deliver a fully-customized webinar to review your individual findings and offer recommendations for specific actions you can take to improve your communications, conversations and interactions with prospective students. For these webinars co-sponsors often assemble staff from admissions, marketing, financial aid and faculty to benefit from the new perspectives, ideas and actions that these studies yield.
We have been told many times by colleges that the webinar alone is worth the small cost of getting on board!
You get a deeper level of insight on the pool of prospective students you were working for 2017 and get a clear understanding of how you were or weren't tripping their trigger. You can click here for a video with all the details.
Continue the conversation on Twitter @LongmireCo. For more information about Longmire and Company's Interactive Counselor Training Program, click here.  Subscribe to Versions of Conversion today so you don't miss any of this highly-valuable information.

Rick Montgomery is as an Enrollment Strategist at Longmire and Company. With over 20 years in higher education marketing, he brings an innovative approach to helping colleges and universities meet their enrollment goals. Rick can be reached at 913/492.1265 x.708 or via email at rmontgomery@longmire-co.com.