I remember talking with college bound students in the focus groups we conducted during the development phase of our most recent national higher education study: "Hidden Influences: Revealing the unspoken perceptions that perspective students have about your college and why it matters in your ability to grow and control your enrollment," and gaining fascinating insights.
Among many other things, we explored why students will NOT tell a college about the things they find unappealing or lacking about the college.
Students in the focus groups identified eight reasons why they are naturally averse to telling you the things they find unappealing about your college. We then presented these reasons to 18,000 students nationwide in the quantitative portion of the study to determine if they are reflective of students across the country. They are.
In this blog post, we'll share the most common reasons why students are hesitant to tell you about the things they don't like about your college. More importantly, we'll offer suggestions for how to deal with each issue. In our view, its part of the job of a counselor, a faculty member, a financial aid rep, a tour guide, or whomever interacts with prospective students to extract and deal with issues of interest and concern to prospective students.
The table below lists the TOP EIGHT REASONS students don't want to tell you about the things they find unappealing about your college. As you can see, there isn't much difference in how students bound for private and public colleges ranked their reasons, except for the #1 reason. Students bound for a private college or university say they don't want to share their negative impressions with you because, "I would not want to hurt my chances of being accepted later." Public-bound students say, "I doubt my opinion would matter."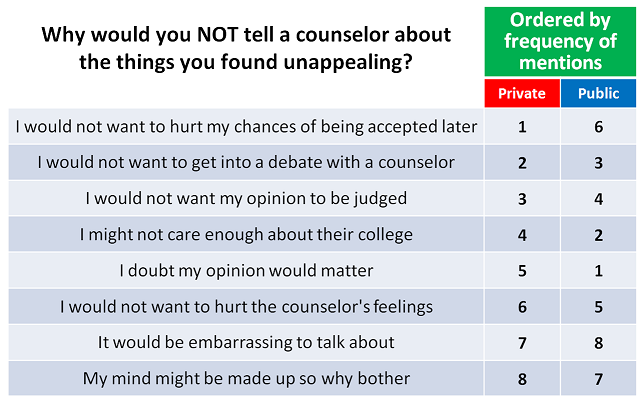 Knowing why students are reluctant to share their negative impressions can help you change the conversations you have with them. If you're a private college, for example, you can safely assume that most of your prospective students may be fearful of sharing their negative impressions because they think it may hurt their chances of being accepted. To alleviate their fear you can provide reassurance that their candor is sincerely welcomed and appreciated, and it will have no impact on your admission decision.
If you're a public college, your prospective students need to be informed that their opinion matters. Better yet, you can point to things your institution has changed or added in service to students on the basis of what "students like you" suggested or found missing on your campus.
Most of the eight reasons in the table above have an emotional component. Students don't want to reveal their negative impressions for FEAR of being judged or wrecking their chances with your college. They don't want to hurt your FEELINGS. They don't want to be EMBARRASSED. They don't CARE enough about you to share their opinions.
You can appeal to their emotions to uncover their hidden thoughts and opinions. As we wrote about in a blog post a couple of weeks ago, students will reveal their negative impressions of you if you make them feel comfortable doing so. Students are amazingly altruistic. They want to help you and they want to help other students, as well. Tell your prospective students that they'll do both by telling you the positive AND not-so-positive impressions they have formed about your college.
Extracting the negative impressions students have about you can be achieved in ways beyond conversation. The 18,000 college bound students involved in the Hidden Influences study offered many suggestions for getting this information through post-tour surveys that go beyond the typical – as one student characterized it – "were we helpful" types of questions.
We are preparing to launch our next study!
Each year our national co-sponsored studies attract even more colleges that want to "get in" on the new and different insight we give them about their prospective students and students nationwide. If you'd like information about the topic of our next study, and the benefits you receive as a co-sponsor, be sure to CLICK HERE now to be alerted soon when we put together our next group of co-sponsors.
You can also CLICK HERE to receive an advance copy of the Hidden Influence study report prior to its national release.
Continue the conversation on Twitter @LongmireCo. Be sure to Subscribe to Versions of Conversion today so you don't miss any of this highly-valuable information.

Bob Longmire is President of Longmire and Company, Inc. He is a recognized expert on the topic of how prospective students and parents form their college selection decisions – and how colleges can use that knowledge to grow and control their enrollment. He can be reached at (913) 492-1265, ext 709 or at blongmire@longmire-co.com. Connect with Bob at Linkedin/in/boblongmire.