Ask yourself this: Do the students in my admit pool know me by name?
If you confidently answered "YES," congratulations! You have most likely established a relationship with each of the students you are hoping to enroll. If, like many admissions counselors, the answer to that question is "no," or "I don't know," you have some work to do.
I know you are thinking: "But I have 250, 500, 2500 (insert your number here) students in my admit pool! How can I be expected to know every one of them?" Most likely, if you were given a few minutes to pull your files and review your notes, you would be able to offer a synopsis of any one of those admitted students.   And, no matter how many students you are working with, there are some that stand out so distinctly that you could rattle their names and stats off the top of your head.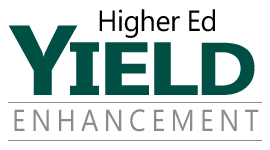 But, is your name on their minds? You may have dozens or hundreds of names to track, but the typical prospective student will only have a handful.
Right now, you are the face of your college or university to the students in your admit pool. Successful admission professionals know that developing a connection with a student can greatly increase his or her commitment to the college and improve the likelihood of enrollment. In the midst of yield season, they know that strengthening that bond is crucial.
Want proof of the importance of your personal relationship with a student? Consider this: In our most recent nationally co-sponsored study, The Excitement Factor, we asked 12,000 college-bound students if the colleges they were considering had taken a personal interest in them at any point in the recruiting process. The response was shocking. Two-thirds said "No" or "Don't Remember" and in our view "Don't remember" is the same as "No." (If you want a copy of the full report when it's released, just click here.)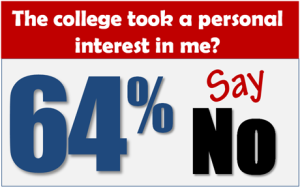 I have spent over 20 years in the higher education field, and have experienced firsthand the joys of helping students find their perfect fit. One of those special connections happened when I was an admissions director during a particularly challenging yield season.
It was a warm spring day when a woman walked into our offices with a giant smile on her face and a gorgeous, gourmet chocolate cheesecake in her arms. After introducing herself as the mother of a newly-enrolled student, she asked to speak to Julie, one of our superstar admissions counselors. As she presented Julie with the cheesecake she said, "I just want to thank you and your staff for helping my son through the admission's process. He has officially enrolled and we are all so excited for him!" She explained that they had initially found the entire process to be overwhelming but "you were so patient and responsive that it took a lot of the stress off of us. Every single person that Brandon came into contact with here was so kind and helpful. It made the decision so much easier," she added.
In case you are wondering, that chocolate cheesecake was delicious but not nearly as sweet as the taste of success our whole team felt that day.
If I can help you with your recruiting efforts in any way, please feel free to call or email me. I would love to talk to you about our powerful and effective Yield Enhancement System (YES). My contact information is at the bottom of this post.
Continue the conversation on Twitter @LongmireCo.  Be sure to Subscribe to Versions of Conversion today so you don't miss any of this highly-valuable information.

Karen Full is a highly-respected higher education professional who has held positions in admissions and enrollment management at several institutions in the Midwest and Florida. With her vast experience working with large and small, public and private colleges, Karen brings a valuable perspective to her role as an Enrollment Strategist at Longmire and Company.
Call Karen at 913/492.1265 x.711 or email her at kfull@longmire-co.com. Follow Karen on Twitter @KarenAFull.