Everyone knows that this time of year is a crazy busy time for everyone. But the truth is, those of you who work in higher education admissions have twice as much on your to-do list than most people. 
Topping that list:  Prep Your Team for a Winning 2017!
Over the next three posts we are presenting key focus points in our Higher Education Counselor Training Series. We're giving you information and video content that is loaded with techniques that you can adopt immediately for greater success in your recruitment efforts in the immediate future.
Here's to the Best New Year!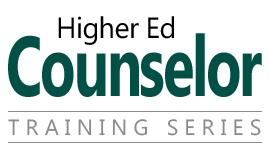 At the heart of our Interactive Counselor Training Program is a proven model of communication that counselors tell us is transformative. It's simple and effective. Adopt these straightforward methods and you'll have richer conversations with the students you're trying to recruit and you'll see greater success in your recruitment efforts.
By using this model properly, both you and the student will be better served. You will understand the individual student's needs and preferences and THAT will enable you to align the value of your institution with what the student (and parent) PERCEIVES as being valuable. You will cut through the clutter of what every other college is saying about itself. Your message will resonate with the student.
While the model may be simple, your skill in executing it makes all the difference. Swinging a bat is simple. Great execution makes for batting champions.
The 4-step process begins with PROBING: This really just means asking the student a lot of great questions that have both scope and depth.
In any conversation you have with a prospective student, whether it's your first or your fifth, and regardless of where you are in the recruiting cycle, you need to probe. You HAVE to ask many questions.
Most counselors think they already do this. But in our training workshops with admissions counselors across the country, we see two common mistakes.
First, the questions being asked don't penetrate deeply enough to uncover all of the student's motivations, assumptions, concerns, preferences and influences in their college selection decision.
Secondly, we see questions asked that do little more than give the counselor an opportunity to talk about the college.
The key is to turn the focus of the conversation toward the individual student. Information you provide about the college must relate to only those things the student has told you is important in their college selection decision or, frankly, it is meaningless.
We have a theory that we share with counselors: To have a relevant conversation we must discover what a student is thinking. To be more meaningful we must know what a student is feeling. A conversation without relevance and meaning is just talk.
When you have asked enough questions to have a full understanding of the student's unique preferences, you are ready to talk about your college and demonstrate how your institution can best meet their individual needs.
This next phase of the model is called SUPPORTING: This is where you'll discuss your institution's benefits and values, and you'll need to focus on what you know is important to the student.
Supporting is an art in itself.
With practice, you'll be able to not only INFORM the student that you have what they want but you'll also get them excited about attending your college. The various ways you can support are too numerous to detail here but it's the part of the conversation where a student's interest in you will either get stronger or weaker.
The third step of the communications model involves DEALING WITH CONCERNS OR OBJECTIONS.
First, you have to find out if any exist.
That may sound easy but we have learned that most counselors don't do it.
And, when you don't do this you are left scratching your head, wondering why the student you fully expected to enroll chose another college. Again, probing comes into play here. You're searching for concerns, objections, or indifference.
When you find them, you have to deal with it.
Maybe the student's concern is based on a false assumption about your school. If so, you need to correct it. Maybe they're worried about something. If so, you need to reassure them. You can't address their concerns or objections if you don't uncover them and you can't uncover them if you aren't asking the right questions.
Once you have uncovered and dealt with any objections, you are ready for the fourth and final step in the communication model: CLOSING.
Closing simply means getting the student to take the next logical step on the path to enrolling.
You know there are many milestones on that path. But in every conversation you should end with a suggestion that the student take the next step. If the student resists, you have to circle back to uncover their objection or concern.
The model of communication and its four elements is a simple approach to having great, productive conversations that benefit both you and the students you are recruiting.
Remember, the goal is to best serve the student by truly understanding what they need and want which will ultimately make both you and the student more successful.
As I stated at the top of this post, this is the first in a three-part series that we hope will set you and your staff up for success in the coming yield season.
So you know:
We're doing something new this yield season with our counselor training workshops. We're conducting them on centrally located campuses around the country and inviting nearby colleges to send directors and counselors to the event. Each will be a day-long intensive interactive training workshop that will prepare admission professionals for yield season success. New and seasoned counselors will benefit.
The price of attending is more than affordable for every college, even those that have little or no budget for professional development. The focus of the Yield Season Workshop will be to give your counselors powerful new skills and techniques that they can put into action immediately. It will be convenient and close to home. Your staff will drive to the event in the morning, participate in a dynamic training workshop, and be home in time for dinner.
We'll be conducting workshops in January and February on campuses in Indiana, Missouri, Kentucky, New Jersey, Pennsylvania, Texas and elsewhere. We're continuing to add events. Keep checking HERE as colleges join the list of host sites. And please, feel free to contact me if you'd like to host an event or suggest a location.
[This is Part 1 in our Series: Counselor Training for Recruitment Success. Subscribe to Versions of Conversion today so you don't miss any of this highly valuable information. In Part 2, we will take an in-depth look at skillful  probing techniques.]

Bob Longmire is President of Longmire and Company, Inc. He is a recognized expert on the topic of how prospective students and parents form their college selection decisions – and how colleges can use that knowledge to grow and control their enrollment. He can be reached at (913) 492-1265, ext 709 or at blongmire@longmire-co.com. Connect with Bob at Linkedin/in/boblongmire.