When does yield season really begin? Sooner than you may think. Much sooner.
In a recent study of nearly 12,000 prospective students across the country, we asked, "When did you make your emotional commitment to the college of your choice?"
As you can see on the graph below, nearly one-third of students make their final college selection decision before the end of March, and by the end of April that percentage rises to 57%. By May, 80% of students have made their final choice.
No doubt about it, students are making their college decisions NOW. And that puts more pressure on your admission team to cement the relationships you're building with prospective students.
Recently an admission counselor confided to me that she has regular nightmares that the students she is recruiting have already made an "emotional commitment" to another school but haven't shared that fact with her. "There have been students that I was sure were going to enroll with us that surprised me. When that happens, I feel like I have failed the student and the university," she said. "This is the fear that keeps me up at night. What can I do?"
I told her exactly what I will tell you: There are actions that you can take today that will improve yield, and may even help you get a good night's sleep.
Understand the student's motivation.
You might be surprised to find that our research uncovered that nearly 40% of students make their ultimate choice based more on their excitement about the college than facts about the school.
What's more, only 30% of prospective students consider cost the overriding factor in their college selection decision. So it's likely that 70% of your pool will not be exclusively waiting to hear about your financial aid package before deciding which school is right for them. They may play the "other school is offering us more money" game to try to get more from you but, believe me, if you've gotten them excited they'll ultimately come to you.
Demonstrate a genuine interest in the individual student.
We asked college-bound students if the colleges they were considering had taken a personal interest in them at any point in the recruiting process. The response was shocking. Two-thirds said "No" or "Don't Remember" and in our view "Don't remember" is the same as "No!"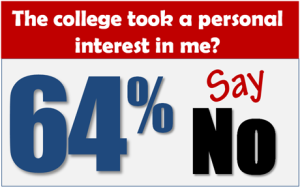 You may have heard the saying that "someone may forget what you said and forget what you did, but they will never forget how you made them feel." Showing a personal interest in each student makes them feel good about the college and it has a strong positive correlation to yield.
Smaller colleges may have an advantage in that they can more easily establish a one-to-one connection with a prospective student but that doesn't mean that large colleges that recruit thousands of students cannot also give prospective students the sense that the institution cares about them as an individual. This is typically done by providing great customer service so that students can easily get what they need, when they need it, from people who seem delighted to provide it to them. This commitment and practice has a measurable impact on yield.
Be sure to ask this one KEY question.
We have found that the most successful admission counselors build relationships with their students and gain valuable personal insight about each and every one of them. They know whether or not cost is the most critical factor and what attributes of their college will excite the student.
With that knowledge in hand, they nurture a relationship with the student that best serves the needs of the individual. They stay in touch, ask questions and have meaningful conversations throughout the entire admissions process. And, they don't get unpleasantly surprised when the student tells them he or she has opted for another college.
But, what if one of your prospective students has formed an emotional connection to another college long before you have firmed up any details with them? How can you know that? What can you do?
At various points throughout the recruiting cycle, most colleges will ask the question, "Are you still interested in us?" The real question colleges should ask is, "At this point, has any college captured your emotional commitment?"
If the answer is "yes," don't be discouraged. You have just been given a golden opportunity. Use your probing and supporting skills to present your college's value proposition in a truly meaningful way. You are very likely to change some minds.
Continue the conversation on Twitter @LongmireCo.  For more information about Longmire and Company's Yield Enhancement tool click here. [Subscribe to Versions of Conversion today so you don't miss any of this highly-valuable information.]

Rick Montgomery is as an Enrollment Strategist at Longmire and Company. With over 20 years in higher education marketing, he brings an innovative and dynamic approach to helping colleges and universities meet their enrollment goals. Rick can be reached at 913/492.1265 x.708 or via email at rmontgomery@longmire-co.com.