What are your plans for May 1, aka College Decision Day? Here is our suggestion: First, give yourself and your team kudos for the months of hard work and the outstanding efforts you put forth to serve the students you recruited while building the best possible incoming class. Next, celebrate those great new students that will be joining your campus family this fall. And then, if you are like the majority of college admissions teams across the country, you'll go right back to work to secure more admitted students because there is still much work to do.
The truth is that most colleges don't meet their enrollment goals by May 1. According to the "2014 Inside Higher Ed Survey of College and University Admissions Directors," only 39% of colleges met their target enrollment by Decision Day in 2014 and industry insiders are projecting that even fewer will do so this year.
For college admissions counselors and enrollment managers facing this challenge, we have some good news and important insights gleaned from our latest co-sponsored study, The Excitement Factor! Of the 12,000 students participating in the study, 20% committed to the college of their choice after the first of May.
The late enrollers shared many of the same attributes as their peers, of course. But there were some areas where we found distinct differences that may help you in your outreach efforts.
Excitement about Attending: Late enrollers don't have as high of level of excitement about the college they select and are far less likely to experience a feeling of connection with the college than early enrollers.
College Visits and Applications: Students who enrolled later were far less likely to have visited or toured the college they selected than their peers. Actually, they generally applied to and toured far fewer campuses than the students who made their decision sooner.
Family Ties: Late enrolling students are more likely to choose a college that a family member has attended than other students.
The Cost Factor: The students who enrolled later indicated that cost was slightly more important to them than the students that made their decision earlier.
The late enrollers tended to have lower SAT scores than other students, but otherwise there were no large variances found in the demographics or psychographics of the two groups.
As you review the pool of students still available to you, keep these things in mind. We know that excitement that about attending is a more powerful driver of college selection than cost or perceived quality of the institution and that a tour of your campus can create excitement. Are there students in your pool who haven't visited your campus yet?
Have you identified potential students with a family connection to your college? In The Excitement Factor!, four in ten students told us that their college choice was influenced by where a parent or sibling attended and late enrollers are even more likely to gravitate to the college that has a family tie for them.
And lastly, if you are looking for a way to really connect with these potential students, we suggest that you make them feel wanted. Two-thirds of college-bound students told us that the colleges they were considering had not taken a personal interest in them at any point in the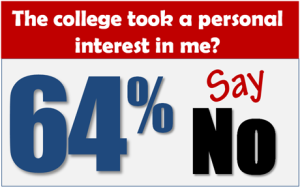 recruiting process. You may have heard the saying that "someone may forget what you said and forget what you did, but they will never forget how you made them feel." Showing a personal interest in a student makes them feel good about the college and it has a strong positive correlation to yield.
We help colleges and universities with their recruiting efforts every day, especially now during yield season. If we can help you, please let me know.
Continue the conversation on Twitter @LongmireCo. For more information about Longmire and Company's Interactive Counselor Training Program, click here. Be sure to Subscribe to Versions of Conversion today so you don't miss any of this highly-valuable information.

Karen Full is a highly-respected higher education professional who has held positions in admissions and enrollment management at several institutions in the Midwest and Florida. With her vast experience working with large and small, public and private colleges, Karen brings a valuable perspective to her role as an Enrollment Strategist at Longmire and Company. Call Karen at 913/492.1265 x.711 or email her at kfull@longmire-co.com. Follow Karen on Twitter @KarenAFull.