Our national higher education co-sponsored studies always yield new market intelligence that contribute to a college's ability to grow and control enrollment. I think our newly-launched study will be the most important one to-date. I'm going to tell you why but first let me state the obvious.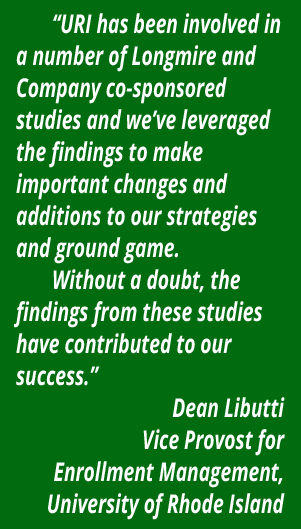 We know that prospective students don't always tell us what they really think. Sometimes they don't want to be completely honest because they think they'll hurt our feelings. Or, they really just don't care that much about us even though they tell us they do.
To explore the roots of this reality Longmire and Company has launched our latest co-sponsored study: "Hidden Influences: Revealing the unspoken perceptions that prospective students have about your college and why it matters in your ability to grow and control enrollment."
This study is going to dive deeply into uncovering the things students hold back from colleges during the college shopping process and, more importantly, the findings will provide colleges with strategies and methods to uncover hidden influences and deal with them before the student solidifies his or her enrollment decision.
If you're thinking this looks like an admitted student survey, let me assure you it's not. This study will delve into the psychology of the decision-making process and it's going to influence the conversations and communication that colleges will have with prospective students in the future.
So, why am I confident this new study is going to be a groundbreaker?
I got a taste of what we will learn after conducting a series of focus groups with college-bound students who will enroll this fall (we often use qualitative research prior to developing the survey instrument used in the quantitative portion of the study).
The focus groups proved to be particularly eye-opening and enlightening. We explored the facts, emotions, intentions and perceptions that students will and will not share with colleges during the recruiting cycle. We explored why students withhold information and we tested methods by which colleges can draw out and deal with these hidden influences on a student-by-student basis. These are the topics that the Hidden Influences study will explore in-depth.
The focus groups revealed, for example, how students deflect the real reasons for not enrolling by attaching them to issues of high cost or lack of aid offered when, in fact, their enrollment decision was based on something entirely different. In those cases, the unsuspecting college is left to think their tuition and financial aid packages are not competitive when, in fact, it had nothing to do with the student's final decision.
During our focus group sessions students told us that colleges often overlook or don't ask the types of questions that will provide a true picture of the student's interest or attraction to the college. Students also said that colleges may ask a lot of questions but they don't ask the right questions that will reveal the perceptions that will ultimately impact their enrollment decision. These are among the topics we'll explore deeply in the study.
The Hidden Influences study will provide co-sponsors with actionable data and insight to help them uncover and manage the perceptions and opinions prospective students have about their
college.
You should consider jumping on board this new study as a co-sponsor. That way, you'll be able to get data and insight on what students are withholding about your college and, more importantly, learn how you can deal with it in the future.
There is a long list of colleges across the country that regularly participate in Longmire and Company co-sponsored studies. They do so because they gain new insights about their prospective students and they make changes to their recruiting and communications as a result.
Getting involved in the Hidden Influences study is easy, low-cost, and provides valuable deliverables. There is still time for you to get on board and be among a growing list of public and private colleges nationwide that will benefit from this information. I encourage you to download a PDF that will give you all the information you need.
For more information or to reserve your participation in this study, contact Rick Montgomery (913) 492-1265, ext. 708 or  by email at rmontgomery@longmire-co.com or me at (913) 492-1265, ext. 709, blongmire@longmire-co.com. Colleges are signing up now so we encourage you to contact us soon if you are thinking about participating. CLICK HERE FOR COMPLETE INFORMATION.
We help colleges with their recruiting efforts every day. If we can help you please call or shoot me an email. Continue the conversation on Twitter @LongmireCo. For more information about Longmire and Company and the tools we have to offer, click here. Be sure to subscribe to Versions of Conversion today so you don't miss any of this highly-valuable information.

Bob Longmire is President of Longmire and Company, Inc. He is a recognized expert on the topic of how prospective students and parents form their college selection decisions – and how colleges can use that knowledge to grow and control their enrollment. He can be reached at (913) 492-1265, ext 709 or at blongmire@longmire-co.com. Connect with Bob at Linkedin/in/boblongmire.