[This is Part 7 of the Yield Enhancement Series: The Final Push, offering actionable and effective strategies for the closing weeks of the yield season.]
It's a safe bet that most students in your admit pool have something that they don't want to share with you. Maybe it's a concern. Or something they flat out don't like about your college. Or a negative perception that's based on a false assumption. It may be huge or it may be small, but it is the one thing that could derail their plan to enroll at your college.
Over many years, we have found that nearly every student has a hidden concern or objection that could disrupt their path to enrolling. Even the most skilled admissions counselors often find it difficult to uncover these "secrets." Why don't students open up and share their concerns with you? Typically, for one of these two reasons: A) Your prospective students are genuinely kind and don't want to hurt your feelings, or B) they are concerned they will reveal something that will hurt their chance of being admitted.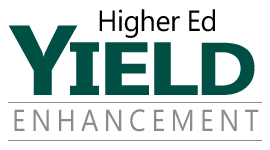 We know this to be the case because although they won't tell you, they have told us. We provide a tool called the Yield Enhancement System (YES) that gathers key information from students at a crucial point in their college selection process – after they have applied. YES gathers candid information from students in a college's admit pool about their needs, preferences, perceptions and plans, including which colleges are truly under final consideration and what they are most concerned about.
Over the years we've asked more than a million college-bound students a simple question: Tell us your top-three colleges, then tell us your positive and negative impressions of each college.
Very often, we find that the one thing troubling the prospective student is actually a misconception. We see this time and time again, even among those students who completed extensive research, toured the campus and received exceptional one-on-one counseling. And, almost always, the concerns can be addressed and overcome, if only you, the counselor, can uncover them.
Let me share some actual unedited concerns we have uncovered from students about the colleges and universities they are seriously considering:
"THERE ARE MANY LOCATIONS, WHERE ONE MIGHT GET LOST." (The college is under 1500 students and situated on about 6 acres of land.)
"THE BUILDINGS ARE OLD AND DANGEROUS." ( The buildings at this celebrated university have been standing for quite some time on a campus that is considered one of the most beautiful, and well-kept, in America.)
"LACK OF SOCIAL ACTIVITY." (This was a big surprise to the admissions department of this college that consistently gets high rankings for being one of the most social in the nation.)
"FRESHMEN CAN'T DRIVE ON CAMPUS." (Confused with another school? At this school all students drive wherever they want.)
"CROCODILES GET IN THE DORMS." (It's true that this big, beautiful Florida campus has lakes that crocodiles live in – and occasionally sun themselves on the shores of – but none of the adored reptiles has ever made its way into a dorm.)
You can uncover hidden objections and help the student make an informed decision about which institution is the best fit for him or her. Skillful probing is the key to uncovering the things that may be holding a student back from making a final commitment. Give him or her permission to open up: "At this point, most students I meet have at least one major concern. It is a normal part of the process. What is yours?" Sometimes it's the student's misunderstanding about a fact. Sometimes it's a false assumption.
Probing will also help you peel back the layers of the underlying issue and allow you to remove a doubt or a fear. The student who was worried about getting lost on the small campus? A quick walk of the campus with the counselor was all it took to change her mind. And the student who was concerned about a lack of social activity? That vanished when the counselor introduced him to several students who shared his interests.
A highly-personalized approach is most important at this stage of the recruiting cycle. The goal is to best serve the student by truly understanding what he or she needs and wants. Ultimately, that will make both you and the student more successful. One of the keys is to address potential objections and concerns head-on. It must be part of your conversations with prospective students.
We help colleges and universities with their recruiting efforts every day, especially now during yield season. If we can help you, please let me know.
Continue the conversation on Twitter @LongmireCo. For more information about Longmire and Company's Interactive Counselor Training Program, click here. Be sure to Subscribe to Versions of Conversion today so you don't miss any of this highly-valuable information.

Karen Full is a highly-respected higher education professional who has held positions in admissions and enrollment management at several institutions in the Midwest and Florida. With her vast experience working with large and small, public and private colleges, Karen brings a valuable perspective to her role as an Enrollment Strategist at Longmire and Company. Call Karen at 913/492.1265 x.711 or email her at kfull@longmire-co.com. Follow Karen on Twitter @KarenAFull.