Get On Board!
We know that prospective students don't always tell us what they really think. Sometimes they don't want to be completely honest about their REAL first-choice college because they think they'll hurt our feelings. They may tell us they had a great campus visit, yet tell their parents on the way home that they'll never enroll. They often say one thing and do another. Why?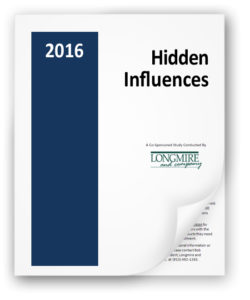 Unfortunately, their hidden opinions and perceptions hinder our ability to fully understand, communicate with, and ultimately recruit them. In light of this, colleges are asking, "How can we better understand the individuals we're trying to recruit and uncover the positive and negative perceptions that influence their enrollment decisions?"
We will answer those critical questions in our next co-sponsored study, Hidden Influences: Revealing the unspoken perceptions that prospective students have about your college and why it matters in your ability to grow and control enrollment. This unprecedented study will break new ground in exploring the hidden perceptions and opinions that influence students in choosing your college or another. Unlike any other higher education research or non-matric studies, Hidden Influences will dive deeply into the emotions and perceptions that factor into the college selection process. This study, like our previous co-sponsored studies, will provide you with actionable information you can use immediately and effectively.
We hope you will join a prestigious list of co-sponsoring colleges and universities, large and small, and participate in this study. Co-sponsors find our studies valuable because of the wealth of new insight they gain about their individual pools of prospective students – insight they can use to drive action and change.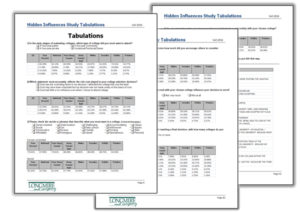 As a co-sponsor you receive a comprehensive set of tabulations relating to your pool of students, as well comparative data of others in your cohort and other market segments. You'll also receive the national summary report before its widespread release.
In addition, Longmire and Company Enrollment Strategists will prepare and deliver a fully-customized webinar to review your individual findings and offer recommendations for specific actions you can take to improve your communications, conversations and interactions with prospective students. For these webinars co-sponsors often assemble staff from admissions, marketing, financial aid and faculty to benefit from the new perspectives, ideas and actions that these studies yield.
We have been told many times by co-sponsors that the webinar alone is worth the cost!
It can be very expensive for an individual college or university to do the scope of research needed to get the answers and insight we get. But by co-sponsoring with other institutions you get the best of both worlds: Data and insight about your pool of prospective students coupled with a national picture, resulting in a very comprehensive study for a fraction of what it would cost to do it on your own. These studies are affordable at just $2,975 (all inclusive) per institution.
For more information or to reserve your participation in this study, contact Rick Montgomery (913) 492-1265, ext. 708 or  by email at rmontgomery@longmire-co.com or me at (913) 492-1265, ext. 709, blongmire@longmire-co.com. Colleges are signing up now so we encourage you to contact us soon if you are thinking about participating. CLICK HERE FOR COMPLETE INFORMATION.
We help colleges with their recruiting efforts every day. If we can help you please call or shoot me an email. Continue the conversation on Twitter @LongmireCo. For more information about Longmire and Company and the tools we have to offer, click here. Be sure to subscribe to Versions of Conversion today so you don't miss any of this highly-valuable information.

 Bob Longmire is President of Longmire and Company, Inc. He is a recognized expert on the topic of how prospective students and parents form their college selection decisions – and how colleges can use that knowledge to grow and control their enrollment. He can be reached at (913) 492-1265, ext 709 or at blongmire@longmire-co.com. Connect with Bob at Linkedin/in/boblongmire.