[Part 1 of our blog series on how exceptional pre- and post-enrollment customer service can increase yield at your college or university.]
Imagine that your college is one of a handful of higher ed institutions in the country to receive a very prestigious award for Excellence in Service. Every person on your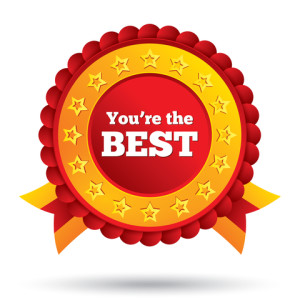 campus would feel the pride of such an achievement. Imagine all the ways you could share this exciting news: banners, brochures, Facebook, Twitter, Instagram, and more. This esteemed designation would most likely become the cornerstone of your recruitment efforts. Now, ask yourself this: Are we offering stellar pre-and post-enrollment service? Do you even know the answer to that question?
As an admissions professional, you know how crucial first impressions are. In our national co-sponsored study, Pre-Enrollment Service Study: How customer service delivery during the recruiting cycle influences enrollment, we found that over 53% of students and parents say that the pre-enrollment service they receive from a college influences their selection decision.
Whereas most businesses recognize the importance of customer service and laud accolades on those that excel in exemplary service, higher education has not typically made customer service a priority. For instance, how do you think colleges compare with services such as banks, hospitals or even the United States Postal Service? The truth is, all of these industries ranked higher in customer service satisfaction than colleges based on data we collected from thousands of students and parents nationwide. On top of that, more than half of students and parents questioned colleges' commitment to providing a high level of service. Our study revealed that many colleges are currently flunking out when it comes to pre-enrollment service. Perhaps it's time we look to other service industries and revisit Customer Service 101.
If you are searching for the singular way to differentiate your institution, take note:
Students and their parents say that service is one of the best ways to distinguish one college from another. The fact is: Prospective students and parents view the pre-enrollment service they receive as predictive of how the student will be served after enrollment. They will avoid colleges that exhibit bad service during the "college shopping" process. Through our Service Quality Management (SQM) studies at large and small, private and public, colleges across the country we have learned that breakdowns in pre-enrollment service delivery often outweigh perceptions of strength in areas such as academic quality, reputation of faculty, program offerings, and even scholarships and financial aid. Conversely, high levels of service often make an institution more attractive because of the perceived likelihood of favorable outcomes brought about through greater attention to the student's individual needs.
Longmire and Company's Service Quality Management (SQM) tool explores the pre-enrollment customer service experiences that parents and prospective students have with your institution and that of other institutions, and how those experiences either enhanced or diminished their commitment to enrolling. SQM measures service experiences across numerous brand touch points of the institution. The impact on yield of delivering a high level of customer service is astonishing.
SQM and the data collected in our recent Excitement Factor national study show how important it is for an institution to deliver sustained and quality contact with students in each stage of the funnel. I can't emphasize the word "quality" enough.
It's easier than you think to measure the pre-enrollment customer service that you're providing and how it impacts your yield rate. Many of our clients go through the exercise of measuring customer service across all brand touch points so that they can make an objective case for change to all of the departments that are not providing an ideal, or at least acceptable, level of service. Most people who work on a college campus understand the need to grow and shape enrollment. They often just don't know how to do it. That's why we always say that if you don't measure it you can't manage it.
Do you want to maximize yield? Measure and manage the way you communicate and respond to students and parents throughout the entire recruiting cycle. Do this and you'll reap enormous benefits.
In our next post, we will continue this conversation with more specific guidelines and tips for helping to improve the level of pre-enrollment service. We want to help colleges seize this opportunity to differentiate and attract more students through better service.
Continue the conversation on Twitter @LongmireCo. For more information about Longmire and Company's SQM tool and how you can measure and manage your pre-and post-enrollment service delivery, click here. Be sure to Subscribe to Versions of Conversion today so you don't miss any of this highly-valuable information

Rick Montgomery is as an Enrollment Strategist at Longmire and Company. With over 20 years in higher education marketing, he brings an innovative approach to helping colleges and universities meet their enrollment goals. Rick can be reached at 913/492.1265 x.708 or via email at rmontgomery@longmire-co.com.