[Part 5 of the Counselor Training Blog Series provides you with valuable information to help you communicate more effectively with prospective students.]
In our Counselor Training Series, we have discussed a four-step communication model that is simple, effective and proven to increase recruitment success. In previous posts, you have learned about skillful PROBING, SUPPORTING and HANDLING OBJECTIONS.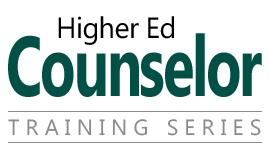 Today we will focus on the critical final step in the communication model:  CLOSING.
That simply means getting the student to take the next logical step on the path to enrolling.
You know there are many milestones on that path. But in every conversation you have, whether it is the first or the fifth, you should end with a suggestion that the student take the next step.
If the student indicates that a roadblock may exist, you have to circle back to uncover his or her objection or concern.
Many counselors tell us they are apprehensive about closing. They feel as though they are being too intrusive or forceful by asking the student to take some action.
In truth, closing is a natural part of the dialogue. For the student, it signals the college's desire to recruit them. They expect counselors to ask them to take action so it's no surprise to them when they do. As a matter of fact, we have found that most students are disappointed when they are not asked to make some kind of commitment to the college.
Have you ever heard the expression: "Don't get in your own way?" That is exactly what you are doing if you fail to ask for the close. Most counselors say that once they got into the habit of closing they were surprised at how many times prospective students happily agreed to take the next suggested step.
Closing, like the three other elements we have outlined in the model of communication, ensures you the most productive conversations with students.  Embrace the model, and you and the students you serve will be more successful.
Continue the Conversation on Twitter @LongmireCo.  Click here for more information on Longmire and Company's Interactive Counselor Training Program.
Be sure to join us for our guest appearance on Admissions Live!  Monday, December 1 at 1 pm EST at HigherEdLive.com.  We will take an in-depth look a the importance of pre- and post-enrollment customer service in higher education based on the results of a national co-sponsored study we conducted.  The Higher Ed Live network offers live webcasts each week for professionals in higher education. Broadcasting live, each week's episodes feature exclusive interviews with professionals from colleges and universities across the country; journalists; consultants; and other thought leaders.
[In the next installment of the Counselor Training Series we'll discuss the best ways to differentiate your college in a compelling way. Subscribe to Versions of Conversion today so you don't miss any of this highly-valuable information.]

Rick Montgomery is as an Enrollment Strategist at Longmire and Company. With over 20 years in higher education marketing, he brings an innovative approach to helping colleges and universities meet their enrollment goals.